Why is my keyboard not working on my laptop? Not function not properly let's discuss in detail.
A laptop keyboard can give little issue at a time. The keyboard is one of the main components, and when it stops working, that means you cannot use it for work. Especially if your job requires a lot of typing, do not fret about it, this is normal.
Is it only a keyboard or the trackpad is also nonresponsive. If it is the only keyboard, then I will tell you a few solutions to make it work again, and bring it back to normal.
There are a few reasons that can stop the laptop from working. Let us look that Why Is My Keyboard Not Working On My Laptop? and also try the solution to bring the keyboard back to life.
Restart your laptop:
It is the most basic one. Usually what happens is the windows don't load properly and make software or hardware doesn't work as they are supposed to. Therefore what you have to do is turn the laptop off wait for a minute or so and turn it back on. It should work normally, but if you feel it has not done the desired work, I would suggest repeating the process.
If the keyboard was acting dead because of the windows faulty loading after restarting it should work just perfect.
All the keys are non-responsive:
You have to check if all the keys are non-responsive on your laptop keyboard. Look for broken keys maybe there is a broken key on the keyboard.
If you find one or more, then one broken key then do not waste time putting it back because most probably it has broken off its hinges. I will suggest taking it to the service shop. They can fix it in less time than you anticipate.
Loose Connector from inside the laptop:
It is possible that your laptop keyboard connector might have come loose. Sometimes when we are not careful enough, the computer falls off our hands. Therefore, it is possible the last fall the laptop had might have moved, or made the connector from inside come loose. To fix this, you have to open the computer and reconnect it. It is better to take it to a repair shop.
Cleaning Might Work the Charm:
Yes, clean it from all the angles. Take a dry brush and brush off the dust build-up under the keys. If you think the brush is not enough to clean the keyboard using the cleaning kit.
If you have steady hands and you have the patience for intricate work. You can carefully unclip the frame of the keyboard which will give you open space for deep cleaning.
I will suggest you not to take out the keys as you can easily break the hinges which will increase your problem then solving it. After cleaning check if it starts working. It does not try the other method to make it work again.
Try Troubleshooting :
The laptop can run a device troubleshooter. It will find the problem and solution for you, while you wait for it to finish examining.
If the troubleshooter can find the issue, it will solve it by itself, or it will identify the cause of the problem for you. Then you can run with it and find the best solution.
Reach in the BIOS Menu:
This is a tricky one, but it is worth a try so let me explain it to you. What you have to do is turn off the laptop and turn it back on press the Esc or Del (whichever works for you)to open the BIOS menu.
If the keyboard responded to your command, it should open the BIOS menu where you can check if your keyboard has a software issue or hardware, whatever your laptop says now you know what to do. If it is hardware, then you have to replace it. If it shows the keyboard has a software problem, then you may have to update or reinstall the software.
Reinstall the Software:
For this, you can either enable the onscreen keyboard or use an external one. There are a few easy steps involved in these methods, which you can perform very quickly.
Right click on your "My PC" icon on your laptop screen.
Choose the properties in the drop-down menu.
After a new window open, find Device Manager. or
Choose Device Manager from the WinX Menu.
Now under 'Keyboards,' you will find your laptop's keyboard.
Right click on it and select 'Uninstall.' If it shows more than one keyboard software, then uninstall all.
Restart your laptop and check if the driver is installing automatically. If not, again open Devices Manager, right-click on Keyboards, and select Scan for hardware changes to fix it. I hope this helps your keyboard work back to normal.
Keyboard Settings:
Sometimes some software can change the settings around to make another program work. On the other hand, it is also possible that you have changed the environment unintentionally or intentionally. If this is the case, then reach the settings and change the keyboard settings to default. It should work just fine now.
Disable the Filter Keys:
You may not have noticed this settings detail, but it is an option that your windows give you. If you feel your keys are not as fast as you type then your windows might have enabled the filter keys settings.
All you have to do is go to the settings, then Ease of Access. Select keyboard from the left menu then you will find the Filter Key option which you have to disable. Filter Keys stop the repeated keystrokes. Therefore, disabling it might solve your problem.
Reboot the Laptop:
If all the in-hand things do not work why do not you give your laptop a clean boot. It will erase any unwanted software or changes in the setting that are made without your knowledge. It will bring the computer to clean the slate. If it does the trick for you, then it must be some other software messing with your keyboard settings. Save all your data and important files before you perform a clean boot.
I hope I have covered all the ground for you to solve the faulty keyboard of your laptop in this article. Best of luck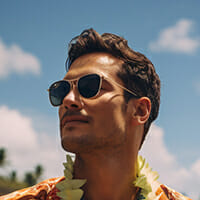 Daniel Levi is the Senior Editor at LaptopsGeek. He holds a Bachelor's degree in Computer Science from Arizona State University and boasts over 15 years of experience in laptop reviews. With his extensive knowledge and expertise, Daniel provides invaluable insights into the world of laptops, ensuring that LaptopsGeek readers stay informed about the latest advancements in technology.