Is ASUS a good Laptop brand? Let's start this review with a little introduction about Asus.
Asus is a multinational computer and phone hardware and electronics company. It is a leading company driven by innovative ideas and technology.
Their commitment to excellent quality products is the reason why Asus is liked by many of its users. They manufacture notebooks, netbooks, motherboards, keyboards, graphics cards, and laptops. It was established in 1989.
Is Asus a good laptop brand?
Yes, Asus is a good brand when it comes to laptops. Overall, the reliability of Asus is really great, their prices are affordable and their support is extremely convenient. The innovations that Asus brought are really admirable. The new designs of these laptops keep on inspiring us. 
Asus offers some great laptops in a wide range. The designs of their laptops are amazing. If you want the quality, then Asus laptops come out like a beast. Low cost with excellent technology is what you get when you buy an Asus laptop.
Asus laptops are very silent and capable of doing all your work better than any of the other laptops. Asus knows how to handle the overheating problem, so heating is not the problem here.
Let's break down the specifications of Asus laptops and see what have we got there.
1: Asus Components
The components of Asus laptops are worth spending the money on. They are extremely affordable. Multitasking is really easy with the components Asus has provided us. Personal users, students, and professionals can totally rely on Asus. 
Most Asus laptops are equipped with quad-core Processors. No worries if your budget is low, you still get the quad-core. The model and the price are the only things that affect the components your laptop has.
Some of the components which you will find in Asus laptops are:
Vapor chamber cooling system
Intel's Skylake processors
Nanoedge technology
Screen pad
8 cell batteries
SSD
LED displays
Sonic master audio
2: Design of Asus Laptops
The design of Asus laptops is innovative and that is the reason why they have been awarded for their cool designs of the ROG and ZenBook series. No matter what is your price range, you will get excellent quality. They put a great effort into the design of their laptops. 
Sleek and stylish designs are all you see when you see Asus laptops. They always prefer that minimalistic look on their laptops. Asus laptops are stylish lightweight and slim.
3: Product variety offered by Asus
A wide range of products is offered by Asus. Wide enough to have a laptop for every need of yours. Their gaming laptops are something people might want to try and that is why Asus gaming laptops are highly recommended. They satisfy the gamer's needs. Updates in the models are really worth waiting for. Asus laptops have always some things new in them, which people love to explore and experience.
Windows laptops, Chromebooks, 2 in 1s, and gaming laptops are some of the examples of the variety they have on their laptops. 
Now let's talk about the price of their laptops.
4: Price of Asus laptops
Asus models are available in all price ranges depending upon your range of money. You'll always get the one that you need even if your budget is low. That's good news here, Asus doesn't let us break our banks.
As already told above, quad-core Processors are there on these laptops, even in the ones with low prices. So basically, we are getting an extremely useful laptop at the same price. The performance can be greatly improved, no matter how much you've paid. 
Their prices start low and then head right up to high-end machinery, and so do the prices. Their collection is great and everyone can have one laptop according to their needs. 
If you compare their products to other brands having the same features, you will see a great difference in prices. With Asus, you always get what you pay for.
5: Asus laptop PC technical Support
To be honest with you, I have heard mixed reviews about their support. Some people say that the support is great and your problem gets fixed real soon. While others say that they make you hold for hours and you have to complete the registration first.
I always found their support convenient and they have been super helpful to me even with my oldest devices of mine. 
When any device is sent to repair, it may cost you extra dollars. However, with every Asus model, you get an extended battery warranty. The warranties are flexible and they tend to cover the defects that are caused by natural disasters, accidents, third-party viruses, and manufacturer defects. 
6: Innovation
Asus keeps up inspiring us with its brand new designs and models. ROG Zephyrus and ZenBook Pro are examples of their excellence. These two models got awards for their innovative designs. Their gaming laptops are really lightweight, unlike most gaming laptops which are really heavy. 
They know how to surprise us with new innovative products. Their machines are packed with power and performance. Asus will always have something for work, pleasure, gaming, or studying. 
Awards received By Asus laptops:
To be very accurate, Asus has won a total of 1796 awards.
Asus ZenBook S received the Best Choice of the Year award. They have been awarded for many of their laptops. The ROG series is the one that got a huge number of awards. 
In 2019, Asus got 6 awards for the best choice.
Asus got 11 awards in 2019 for design and innovation from the Computex awards.
ZenBook, VivoBook, ROG Zephyrus, ROG Strix Series, and Asus mini are the awarded winners.
Even if you search on the internet for top laptops, you'll always see Asus laptops in those lists. That speaks out loud enough for Asus laptops.
Is Asus A Good Laptop For Gaming?
Asus gaming laptops are equipped with powerful hardware, beautiful displays, and hardcore build. No matter what is your choice of games, Asus gaming laptops always are there for you. Asus gaming laptops are thin, light, and deliver great performance. The speakers are impressive. The speakers ensure a great gaming experience by providing you with extremely well sounds. 
Asus laptops satisfy all of your gaming needs. These gaming laptops are fitted with powerful components. Every Asus gaming laptop will rock Full HD gaming. The vibrant screen and colors will make your gaming the best ever. The cooling systems of Asus gaming laptops are innovative.
Some of the gaming laptops and their specifications are mentioned below. All the below gaming laptops will work beyond your expectations. Let's take a look at them.
1: Asus ROG Zephyrus S GX531GX
Giving us a RAM of 24 GB, this gaming laptop is extremely slim and delivers great gaming performance. The screen size of 15.6 inches is here to give us a spectacular display. The cooling system is extremely quiet during operation.
2: Asus ROG Strix GL502
This is one of the best laptops for playing all your games at 1080p. The screen, the power, and the sound system of this gaming laptop are amazing! Everything on this laptop is impressive. Battery life is an issue, but having a charger wherever you go is not a big deal. 
Is Asus A Good Laptop For Business?
Asus laptops satisfy all business needs. They have laptops for small and medium business owners. These business laptops are affordable and powerful, yet durable.
Their battery life is always there to support you, even if you are on the go. You can use their laptops for design, engineering, architecture, and heavy load users. They are just built for perfect performance. Their laptops easily tackle the space you need for business. 
These business laptops allow you to communicate, share and work all day long
Commercial notebooks, ROG laptops, Chromebook monitors, and projectors are what you get from Asus in business. 
Below is a business laptop, which I truly recommend to businessmen. 
3: Asus P Series P2540UA-AB51 business standard laptop:
This laptop is a strong combination of design and business productivity. It has got an incredible battery of about 9 hours. It comes at an affordable price and helps you to keep working all day long.
It has got 8 GB RAM and 15.6 inches anti-glare screen. It is totally a solid business-class laptop with a lot of bonuses. In this range, you can't get a laptop any better than this.
Is Asus better than Dell?
Dell and Asus are really great brands, both offering us a great deal of quality. Asus laptops products are really pleasing to our sight and they are affordable plus streamlined.
Dell is a very well-known brand, way older than Asus. But still, Asus stands in competition with Dell. Dell is famous for the support they provide. Dell offers laptops in a variety of colors. I cannot tell you which brand is better, because it all comes down to your needs. 
However, if you have a specific brand in your mind, don't forget to check what others say about that particular item. Choose the one which meets your requirements as well as the price. 
Is Asus better than Acer?
Acer is a brand that has introduced a lot of machines. However, when it comes to performance, people always tend to rely on Asus rather than Acer. But in the end, both brands offer great quality laptops and have a lot of choices for us.
The thing is every brand has some advantages and some disadvantages, both of these brands included. Both brands offer great designs and performances in every budget range, it is only up to you to choose the one that fits your needs.
Is Asus better than HP?
HP is a very famous brand, but when it comes to rating, both of them are in high competition. The truth is Asus has got the lead in many of the cases.
HP models are expensive and very high-end. Whichever brand you prefer, always examine the specifications. The final decision is obviously yours.
HP laptops are durable and offer a great build quality, but Asus offers no less. Just do some thorough research before coming to a 
conclusion. I cannot tell you which one is better because I don't know what are your specific needs.
Some last words!
Asus is one of the Best brands undoubtedly. Their innovative features like the ScreenPad and the ErgoLyft hinge are the best. Their designs are gorgeous, it reflects!
I looked on the internet to find some useful information about Asus, but sadly there was not a single article that could satisfy me. That's when I decided to write about Asus. Even then, if you have some questions, you can absolutely drop them down in the comments box. I will be there for your help. Have a good day!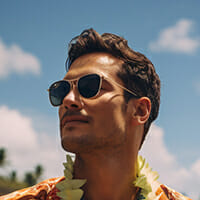 Daniel Levi is the Senior Editor at LaptopsGeek. He holds a Bachelor's degree in Computer Science from Arizona State University and boasts over 15 years of experience in laptop reviews. With his extensive knowledge and expertise, Daniel provides invaluable insights into the world of laptops, ensuring that LaptopsGeek readers stay informed about the latest advancements in technology.