SolidWorks is software that is to helps product designers to create products in three dimensions.
The technique like shaping and lofting to produce the solid shape is generally to sketch 2D profiles, which is transferred to 3D. Not every laptop is suitable for SolidWorks as it requires a specific capacity of RAMs. Let me give an idea of How much Ram do I need for Solidworks Laptops.
How Much RAM Do I Need For SolidWorks Application:
The system that has SOLIDWORKS Visualize or SOLIDWORKS Visualize Boost should have these requirements:

• Windows® 7 or newer (64-bit)
• Dual-core CPU; Quad-core recommended
• 16GB recommended or more
PDM Contributor or Viewer: 8 GB or more
PDM Web Client or Web Server: 8 GB or more
ECC RAMs recommended
• 2GB free disk space; 5GB recommended
• 2GB or more GPU; 4GB recommended
• NVIDIA® graphics card: NVIDIA Quadro®/NVIDIA GeForce®/Tesla™ with at least NVIDIA Kepler™ chip; Dual-GPU set up with at least NVIDIA Maxwell™ cards for the best experience
• NVIDIA driver version 385.41 (or newer) recommended
• NVIDIA driver support for CUDA® 9.0 or later required
• HDR Light Studio connection: HDR Light Studio v5.3.3 or more modern, except v5.4
• 4GB of video memory or more needed for the Denoiser feature.
How Much RAM is enough For Solidworks:
It makes sure the applications are running smoothly without exhausting the system. A system must have at least enough RAMs to match the size and complexity of the opened SolidWorks parts, assemblies, and drawings and the types of operations used on those models.
The performance will affect the performance when the RAM is wholly consumed, and this can ultimately lead to system instability.
Can Solidworks Run On 4 GB RAM?
It will work on 4 GB ram, though it will matter on your design. Your system configuration also matters along with the amount of RAM. You may face lagging if you have an integrated GPU.
For assembly, you should have a good configuration system, but for part modeling and small assembly 4GB ram, integrated graphics, core 2 duo is sufficient.
Is 8 GB RAM Enough For SolidWorks?
The answer is yes it works better than 4GB, but it is the same story. 8 GB works great, but it depends on the design and the configuration of the system. I will still suggest spending some money and getting 16 GB.
How to know how much the RAM is in use:
It is easy to find out how much RAM is in use by just opening the Windows Task Manager. You can access the Task Manager by pressing "Ctrl + Alt + Delete" all at once.
This command will open a screen with a list of commands one of the controls will be a task manager. Then click on the Task Manager.
Then check SolidWorks status on the task manager including SolidWorks add-ins, open typical SolidWorks parts, assemblies, drawings, and perform standard SolidWorks operations on the files.
You can check the RAM usage from launching the task manager.
You can check the status in the performance tab. The RAM should not go down below 5%.

You can check the physical memory of your system in the resource monitor if it is using more than 95% of your Total Physical Memory (Resource Monitor), it means you need a bigger RAM.
If it is holding at those levels for a while, then the CPU drops off for a while and seems like nothing is happening, which means that you don't have enough RAM on your laptop.  
When you do not have enough RAM to hold the whole problem, the solver will pick a smaller quantity of RAM to use.
I think you have found the answer to how much RAM you need for SolidWorks. The bigger, the better is the simple way to go. Rest the decision depends on your pocket and the workload, you have. I hope I have made it easy for you to choose from.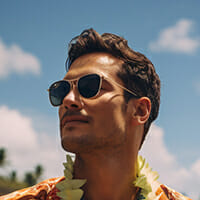 Daniel Levi is the Senior Editor at LaptopsGeek. He holds a Bachelor's degree in Computer Science from Arizona State University and boasts over 15 years of experience in laptop reviews. With his extensive knowledge and expertise, Daniel provides invaluable insights into the world of laptops, ensuring that LaptopsGeek readers stay informed about the latest advancements in technology.