Nothing is worse than having laptops that have a cracked screen. Yes sometimes you can get in a bit hurry to do work on your laptop, and suddenly you see that the laptop is damaged.
At that time you were thinking about that how to fix it a couple of times. Well, many people ask me about this question that How to Fix a cracked laptop screen without replacing it.
How to fix laptop cracked screen without replacing it
Before talking about the conclusion and the best solution, I have to talk about my journey. Nothing can break me out while seeing that my screen is severely damaged. One day I suddenly sit on my laptop and thus due to this my laptop badly cracked.
I was thinking about the solutions, and I was a bit confused that how I can fix my screen without replacing it with the new one.
At that time I don't have much money to replace that cracked screens because as you know, that it seems very costly to buy a new one. In that situation, I was also under a bit of stress because I was working on a business project and I am not in a position to trust any repairing retailer.
At that time I was questioning myself that How to Fix a Cracked screen without replacing it. I start finding conclusions on different websites and looking for a perfect solution that can fix my problem.
Here I want to share my experience that does not consider those blogs and websites that post wrong or spam methods for attaching screens. Finally, I found the best solution which helps me to fix my laptop's crack.
Read our ultimate guide to learn more about Why is my laptop getting hot?
Expenditure required fixing cracked laptop screens:
After reading these solutions do not get in confusion or in a worried state because lots of people use a different set of tools to recover cracked screen. You don't need to worry about the reliability and safe outcomes after considering this solution. Trust me I am posting this method after testing it with my technicians.
Choosing the right working place is the first everything you can do for repairing your cracked screen. It is not appropriate for you to sit anywhere and fix it. All you need is to get a straight table where you will place your laptop and other tools for fixing. I recommend you to use a flat table which can easily fit on the surface.
Use sharp tools or objects that are available at your home. Personally, I used to have small safety pins to remove the cover of the laptop. You can also go for needles and small common pins.
Now you have to use a small container that can easily hold all the little tools like laptop screws which are commonly small in size. You should use a small but deep container which can keep all the little essentials of your laptop.
A Nito-tape is essential for fixing laptop cracked screens. There are several tapes available for fixing mirrors, but eventually, before buying Nito-tape, I checked the whole market and did not found the best solution except this Nito-tape.
You need to have a small screwdriver to unpack the laptop upper cover. I recommend you to buy that kind of small screwdriver which has a magnetic head. It makes your work more comfortable and less tricky.
Guidance to fix the cracked screen:
Before fixing the screen, you need to consider some essential steps. You have to check several things and measurements of your laptop before fixing it.
Check the laptop internal screen attachments carefully.
Note down the percentage of screen damage.
Correctly monitor the external display.
Check the battery of your laptop before fixing its screen.
Step by Step guide to repairing cracked laptop screen:
Before repairing the damages of your laptop check the motherboard and its hardware. Check the reasons of because in my life I have seen such kind of people who are replacing the screens and in the end, they concluded that the graphics card of their laptop is damaged. I recommend you to check the hardware and check the graphics card. The procedure of checking graphics card is simple and easy. You just need to take out the graphics card and insert into some other mobile or PC. If the graphics card is working fine, then it is clearly concluded that your screen is damaged. Check for the short keys that are available on the internet to check graphics.
Now you have to remove the battery of your laptop. Do consider that your laptop should be charged appropriately. Now you need to examine your laptop screen closely. While examining you will conclude that there are some small sized screws available right in front of the corners of your screen. By using screwdriver pull them off. Now carefully remove the cover of the laptop screen.
Now carefully remove the bezel from the screen and check the cracked on the screen. If the cracked part is small, then you don't need to worry. However, if the crack is large, then it will require some time to fix it properly. Now place any thin object on the screen to fix the crack. Apply a little hand pressure on the object. While applying pressure if you feel that the bezel is free then carefully remove the LED screen with the use of a screwdriver. If your cracked part is big, then you should remove the cracked screen and place a new screen carefully.
Now the things are done, and you have to sum up all the things carefully. By using magnetic screwdriver place each screw on its position and fix the screen properly. Now you have a new laptop screen in your hand without going out there. Now you don't need to think when someone asks you solutions that How to Fix Cracked laptop screen without replacing it. You have just to teach them and overcome their problem.
Final verdict:
In this article, I have explained all the only necessities and procedures in detail to fix your cracked screen. Now it's time to fix your laptop problem without going out there and spending a lot of money on it.
After reading this article about "How to Fix Cracked laptop screen without replacing it" you will get an idea that fixing the laptop screen isn't a big task.
Related articles: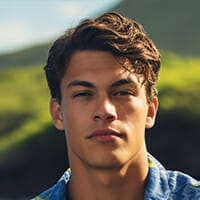 Mark Chard, holding a Bachelor of Science in Computer Engineering from the University of Florida, is the go-to expert at LaptopsGeek for all things tech. With a robust history of reviewing laptops, tablets, smartphones, and more, Mark has developed an astute sense for identifying the essential ingredients that define the perfect laptop. He brings a personal touch to his work, having personally reviewed and extensively used the laptops featured on LaptopsGeek.com.