Frustrated with the amount of information floating around the interwebs about how to properly clean your laptop touch screen?
Today's question comes from a sense comment about how to properly clean a laptop touch screen. A great question we have been asked it much time. What the laptopsgeek.com team has done is we have gone straight to the source and figured out how to properly safely and effectively clean your laptops' touchscreen.
Laptops Geek helps readers keep tabs on the fast-paced world of Laptops with all the Laptops Problems solutions.
This information will apply to any notebook with a touchscreen interface.
laptopsgeek.com team did the proper research and have written this step-by-step quick guide about how to clean your laptop touch screen at home, at the office, and anywhere for our value able audience.
So, be ready to read these amazing ways to clean laptops' touch screen and gets a diamond shine on the screen.
HOW TO CLEAN A LAPTOP TOUCH SCREEN IN 2022
There are many cloth stuffs to clean ultrabook touch screens such as soft cloth or tissue, wet wipes, soft towels, microfiber cloth, and another type of soft cloth. Your cleaning style is removing dust and debris without producing scratch and lint and it is very delicate and sensitive.
Moreover, am telling you the best way to clean your laptop touchscreen.
Step 1:
Shut down your laptop properly and unplug it, it is on charging mode. Remove the battery if, it is possible.
Step 2:
Wet the sponge or soft towel with a few drops of water not too much water and gently wipe the dusty area of your laptop's and softly clean all the lint and dust to avoid heavy pressure because it may cause to damage the display screen.
Step 3:
Make sure no water drops onto your laptop screen and keyboard if some drops drip on it so immediately remove and save your laptops' any damage or loss.
Step 4:
Clean your laptop with a microfiber cloth for drying purposes with soft hands and spray screen shiner carefully, wait for drying before closing the lid and powering on your laptop.
Do's and Don'ts for Cleaning Laptop Touchscreen
Therefore, we are telling you about do's and don'ts for cleaning the laptops' screens. Read them carefully and you know make the little mistake of cleaning may cause big damage. Your laptop screen is very delicate and requires more intention to handle.
Might be interested in What Laptops last the longest
1: Read The Manual For Suggestions
When you buy a laptop it comes with some suggestion paper in their box firstly, you must be read it carefully it contains care and other suggestions about the laptops and its features. It will give you also an idea of how to protect your laptop from viruses and if you are facing any trouble how to remove your problem and get crusties off without destroying it.
2: Cleaning Method
It is very important that you must be known about the cleaning method of your laptops.
Do not use rough or hard cloth for removing dust and lint on the screen.
Don't pay heavy pressure it may cause to the damaging display screen.
Do not spray the shiner directly on the screen because the ultrabook and another kind of technologies are not liquid proof and it might enter inside and cause of disturbance and maybe destroy the display screen or keyboard.
Don't clean the touchscreen when it is on. Before cleaning the laptop make sure the laptop is power off.
Do not rub your laptop screen harder and don't be used a much wetter cloth or towel for cleaning and don't apply heavy pressure on it.
While cleaning your laptop screen if it is possible to remove the battery to keep it off and then clean your laptop's screen it saves method otherwise it is fixed so, don't be trying to remove it.
You might be interested in Why are my laptops getting hot? Latest 2022 Guide
3: Using The Laptop
There is some method of using laptops if you can be used in this way your machine becomes safe and it is more secure.
Do not allow oily, unwanted, polluted and dirty hands to handle touchscreen. Always wash your hand and proper clean than touch your laptops' screen.
Always shut down your laptop properly and do not power in when it is fully charged unplugged your charger. It is saved for your laptop.
Don't use your laptop kept on the pillow because its air can't wind out and it may damage your display screen.
4: Chemical Using
If you are using different chemicals or alcohol for cleaning a laptops' screen it is the damaging way and may destroy your display screen.
Do not Use harsh chemical spray shiner for screen shining.
Don't apply liquid for a time just softly rub and keep it off.
Bonus tip anytime you buy an eyeglass cleaning kit or a flat-screen TV cleaning kit or a foam cleaning kit. It is one of two things dish soap and water voila or rubbing alcohol and water. Save your money and make this stuff at home there you have it my touchy-feely a clean laptop touchscreen the safe way.
I hope that answered your question now you know how to clean your laptop touchscreen properly. Without any drama no ridiculous products and not too much money spent. We provide you with the best and easy way of cleaning and aware you of which things and doings keep damaging your laptops' and learn your cleaning method.
Final Words of Cleaning Laptop Touchscreen
People who clean their laptops' touch screens without reading any suggestions and lose their laptops. That's why we wrote the details for those people who want to clean their laptop touchscreen. You can follow these steps and clean your laptop screen with safety.
Always use a microfiber cloth or soft towel because it may not be produced a scratch on the display screen. Both are good for using it is dependent upon you which stuff you want to use for cleaning.
Now you can clean your touch screen by reading these descriptions and guidance and enjoy the real fun of the laptop. After cleaning your laptop touch screen you will again love your laptop and feels marvelous.
A personal laptop is very important for everyone and your laptops' also require a good cleaning. That's why we wrote this article for you. We are well known for your priorities and your love for your main things.
Here are a few other hand-picked articles for you to read next: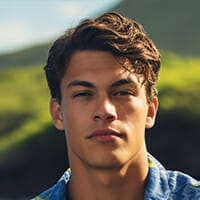 Mark Chard, holding a Bachelor of Science in Computer Engineering from the University of Florida, is the go-to expert at LaptopsGeek for all things tech. With a robust history of reviewing laptops, tablets, smartphones, and more, Mark has developed an astute sense for identifying the essential ingredients that define the perfect laptop. He brings a personal touch to his work, having personally reviewed and extensively used the laptops featured on LaptopsGeek.com.