You have decided, this time you will learn Pentesting or hacking, but you have a question before you start:
Is my laptop the right one?
Is it powerful enough?
Do I have to buy a new one?
Which laptop to choose in this case?
How to select the best laptop for Pentesting?
With which operating system?
The purpose of this article is, therefore, to help you see more clearly around the trending laptops that are most popular and best for pentesting.
This implies that you are a pentester who is passionate about the Pentesting. However, if You are a Pro pentester or Hacker or a learner who is looking for the best laptop for Pentesting and You have particular and precise needs, then this article is for you.
So in terms of best laptop for pen-testing, you need a computer that runs Kali Linux via dual boot or software like VirtualBox VMware.  Pentesters and Hackers might want to run multiple or single VMs on their laptops. Some other features you will need to focus are to include decent battery life, for coding and Kali Linux commands you need powerful GPU and CPU and better FHD screen resolution.
Considering these important factors I have shortlisted the top 5 best laptops for Pentesting that will meet your expectations.
But with that said these are the favorites for 2020 and if you do get any of these laptops in this article you really won't be able to go wrong. So with that said let's jump ahead and jump right in.
Best Laptop For Pentesting 2020 [Top Picks]
If you are a professional hacker or pentester, you will know how good Apple products are in terms of performance. That's all you need for Pentesting. My recommendation is always for this laptop to my students and for you too if you are a newbie or just thinking to get in Pentesting or Hacking field.
But if you are on a budget and looking for the best affordable laptop for pen-testing, then this laptop is not for you to skip this laptop and check out the best laptop for Pentesting down here. All the laptops I have listed here are good laptops for Pentesting don't worry at the end of this article you will find beast for Pentesting.
Design
This new MacBook Pro equipped with a brilliant 15.4-inch IPS panel that displays a definition of 2,880 x 1,800 px. Here we find the "Retina" well known for a few years now. The readability is particularly pleasant thanks to a very high brightness rate (480 cd / m²) and a contrast ratio of 1050: 1.
It's a gorgeous looking laptop it's exceptionally well made it's very rigid to Retina display. It's still one of the nicest you're going to find on a computer in terms of color accuracy it has to do with the operating system it's delightful of course.
The touch bars which some people derisively called the emoji bar I still don't find it useful. The thing I like most about it is scrubbing inside of Final Cut Pro or when playing a YouTube video or something like that. Yeah, it's still a long reach over the keyboard to do something you could hit a command key to do instead.
Performance
This new edition of the MacBook Pro sees its processor evolve. In practice, once all our applied benchmarks (file compression, audio and video conversion, photo editing, 3D rendering), the difference with the previous model is high; we arrive at the high power index. In detail, we note that some tasks like pen testing, Kali Linux is faster; the same thing for the conversion of a video under Handbrake. Anyway, the performance of this MacBook Pro 15 is excellent.
From the outside, this new MacBook Pro 15 is in all respects identical to the model of last year, and we thus find the same quality of construction, the same excellent level of finish and the same gaps in connectivity. The transition to an Intel Core i7 processor with Turbo Boost up to 3.9GHz performance remains excellent, and only the new graphics card makes the difference. This new MacBook Pro is now more proof of the game.
The headphone output of the MacBook Pro 15 inch is of good quality, including a reasonably low distortion rate (0.01%) and a high output power (155 mVrms). The entire sound spectrum very well rendered.
As for the speakers, they are better than those of the portable type. Mediums and high mids are well represented, but the bass and treble are discrete. The power of these speakers is however quite high, which remains appreciable, despite a tendency to saturation at full volume.
Connectivity
The relatively limited connectivity disappears HDMI port, Thunderbolt 2 ports, SD card reader as well as USB 3 and MagSafe connector. Sacrificed in favor of 4 USB Type-C ports, which are supposed to act as connectors for charging, data transfer and connection to a screen.
The USB-C ports are very versatile, but the available devices are still minimal and this transition phase requires users to use adapters (USB-C to DisplayPort / HDMI, USB-C to USB 3.0, USB-C to Thunderbolt 2, etc.).
In the end, you're left with a competent laptop with a beautiful display excellent build quality and with battery life up to 8 hours with precision manufacturing and a great design that will last for a long time.
Apple 15″ MacBook Pro
Display 15-inch Retina Display with True Tone

Processor 2.3GHz 8-core Intel Core i9 with Turbo Boost up to 4.8GHz or 2.6GHz 6-core Intel Core i7 with Turbo Boost up to 4.5GHz

Storage 256GB or 512GB SSD
Prices pulled from the Amazon Product Advertising API on:
Product prices and availability are accurate as of the date/time indicated and are subject to change. Any price and availability information displayed on [relevant Amazon Site(s), as applicable] at the time of purchase will apply to the purchase of this product.
The Dell Inspiron is the second laptop in a list of best laptops for pen-testing and the best affordable laptop for Pentesting. This is the budget laptop for people who are looking for a budget laptop for Kali Linux.
It's geared towards gamers right it's a black device with red accents. It looks pretty cool, but it's packed to the gills with stuff that's like perfect for Kali Linux. Which is surprising because under 800$ device from Dell that's good for Kali Linux and Pentesting? Seems impossible. Right?
Design
The screen is a 15.6-inch FHD Anti-Glare LED-Backlit with a resolution of 1920 x 1080. The top surface of this laptop has this black soft-touch rubber finish, and it has a distinct red Dell logo. I think this is the first red Dell logo I've ever seen.
I have this love-hate relationship with this soft-touch material I love it when it's new. It's like a very magnetic material to use and has an excellent grip. Feels nice in your hand and doesn't show fingerprints easily.
But then when it gets older, it can look beat up. Scratches and scuffs show up easily on this material. But the laptop also comes with a regular plastic finish if that's what you want. The bottom surface is plastic. There are two rubber strips here for grip, a small subwoofer, and a single screw that gives you full access to the internals.
On the left side, we have the power connection, exhaust vent, a pair of USB 3.0 ports, and a headphone jack. And on the right hand, we have the SD card slot, another USB 3.0 port, full-sized HDMI 1.4, and an Ethernet jack. And if you care, the SD card goes in pretty deep. On the backside, some exhaust vents have red metal fins inside them, and they look cool.
The overall build quality is pretty good. The hinge is solid, the keyboard area is surprisingly sturdy, and the screen has some flux. Not a lot, but it's expected for the material that they chose. Lifting the lid, the palm rest has that same soft-touch material, and again I have that love-hate relationship with it.
The keyboard has that number pad split that you might have to get used to, but the layout is otherwise excellent. The arrow keys are well-positioned, and it's not surrounded by any other keys and also the backlighting as actually really lovely on this keyboard. There's a high setting, a medium setting, and off. The typing experience is the best. The travel on each keystroke is good enough, running Kali Linux on it is perfectly fine.
Performance
The configuration It's the 7th Generation Intel Core i7-7700HQ Quad-Core at Base Frequency 2.8 GHz, Max Turbo Frequency up to 3.8 GHz with 2400 MHz memory speed, a 15.6″ 1080p screen, 16 GB DDR4 of RAM, a 512 GB hard drive, and This state of the art CPU has a base clock speed of 2.8 GHz, with a maximum of 3.8 GHz under turbo mode. Also, the 6 megabytes of the cache will significantly help in dealing with the most intense tasks, and this will run you $762 US.
Being a powerful processor has one downside, however. It will drain your battery faster than a normal one. Overheating shouldn't be an issue thanks to a dedicated heatsink and superior heat management technology employed by Dell.
If you're video editing, 1080p edits are very smooth, and 4K edits are still pretty decent as long as you're not using that stock drive. Like having two drive slots in a notebook is fantastic for stuff like video edits and recording Pentesting footage. It keeps your computer responsive. Pentesting on 960M is solid. On max graphics settings it can still drop below 50 FPS, but solo laning you're going to get 100/120 FPS.
The speakers are up on the keyboard area here, and they sound decent. They get loud but higher frequencies start to break up when the volume goes up, and if you remember, there's a subwoofer on the bottom of the laptop, but this one doesn't sound that great. System noise isn't bad. It idles around 25 dB, mostly from that hard drive and it hits mid- to high-30s when it's under load. The temperatures are also pretty good.
Battery life isn't bad. I was getting around 5.5 hours of regular use with the screen at about 75% brightness and about three hours of Kalin Linux on battery.
Connectivity
Interface options are plentiful for avid gamers, and not only. I have no complaints about the fact that it doesn't feature a USB-C port or a mini-Display port for that matter. You'll be able to hook up to three peripherals and one external monitor to the Dell Inspiron i5577-7342BLK-PUS. Here are the available ports:
3 x USB3.0 (one with SleepCharge)
1 x HDMI
1 x RJ-45
1 x COMBO audio jack
1 x SD card reader
Connectivity is also rather standard:
10/100/1000 Ethernet
Dual-Band 1×1 802.11ac
Bluetooth 4.2
For $762 I think Dell hit a home run. There's stuff that I don't love about it like the drive's a little bit slow which you can upgrade. If you have a budget of $762 or less, this should be on the top of your list because it performs well, it's super upgradeable, and it's very inexpensive.
Dell Inspiron
Screen Size 15.6 inches

Max Screen Resolution 1920 x 1080

Processor 3.9 GHz Core i7 Family

RAM 8 GB DDR4
Prices pulled from the Amazon Product Advertising API on:
Product prices and availability are accurate as of the date/time indicated and are subject to change. Any price and availability information displayed on [relevant Amazon Site(s), as applicable] at the time of purchase will apply to the purchase of this product.
3. Lenovo IdeaPad Y700 (Cheap Laptop For Pentesting)
In the list of best laptops for Pentesting, my third pick is Lenovo IdeaPad Y700. Lenovo IdeaPad Y700 is also the best affordable laptop for Pentesting for people who are on slightly on budget. 
This of course including the powerful GTX 960m 4Gb version and the all-new Skylake 6700HQ processor. But before we dive too deep into the specs of this laptop lets talk about at its design.
Design
Lenovo once again turns to it tried and true brushed metal design that they have used for a number years, The entire outer housing is using the brushed aluminum this time giving it an excellent feel. Lenovo didn't stray too far from their previous design at all, keeping things quite familiar even the very similar closed vents in the rear on the left and right side. Also going so far as to keep the same lid slants on the edges.
But hey why fix something that nOt broken. I will say though that this gets them that gaming appeal that they are looking for, a market they are learning is quite profitable. It seems similar to the older Y 50. It's the same pattern aluminum surface that looks pretty nice, but fingerprints still show easily.
It's pretty easy to upgrade if you remove a bunch of screws on the bottom you get access to the RAM slots and both drive the 2.5 inch SATA drive and the m2 slot.
The build quality is much improved over the y50 after months of regular use the hinge is still working correctly. It's OpenAL with one hand, and it's got nice tension. I love the location of the hook the actual a mechanism is much better. It's smoother it's easier to open, and most importantly it's durable the inside surface is a soft-touch finish.
The keyboard is pretty good the arrow keys are positioned a little close to the adjacent keys, but the keystrokes are nice. The backlighting is red and even if you don't have it on the sides of the keys are red so if Red's not your favorite color tube head.
The screen has a matte layer on it. It's one of the very few laptops out there that has a matte finish touchscreen. Someone discovered that you could take a hairdryer heat up the adhesive and then peel off that layer. So I did it on one of the earlier units, and the immediate reaction was oh my god this screen is so much nicer. The thing is it is a very reflective display.
Performance
It's running an NVIDIA GeForce with GTX 960M properly cooled quietly on idle, and it doesn't get too loud at maximum load. The CPU does throttle a bit on benchmarks, but I've never noticed an issue for cat applications or games, so I think you're probably right in terms of 1080p gaming frame rates.
It'll easily handle light games so ultra settings will still get you over 60 frames per second moderately demanding games will need reduced graphics settings to maintain 60 frames per second. Then very demanding games you can still hit 50 or 60 frames per second, but you'll need the lower graphics settings or the screen resolution. In terms of running Kali Linux trust me this laptop will never disappoint you.
It's a 60-watt-hour battery, and battery life is pretty good with a screen at max brightness so around 250 nits I was getting five to six hours of regular use and then three and a half hours of gameplay. The speakers are excellent JBL branded if that matters loud clear and well-positioned. It also has a subwoofer on the bottom, so the Y 700 took the crown for the best speakers.
Connectivity
It has a good number of ports on the right we have USB 3s HDMI out and Ethernet, and on the Left, we have the power connection USB 2 SD card audio jack and a system restore button there is no Thunderbolt 3 connection.
The Lenovo Y 700 has a much-improved build quality from the previous Y50 the touchscreen display is excellent for Kali Linux. But it lacks the gamut for accurate color work the keyboard is good and has red backlighting. The trackpad is just okay inside the i7, and the 960m is cooled correctly, and they can handle most current games reasonably well it has 16 gigs of RAM and one terabyte hard drive and it's fueled by a respectable 60-watt-hour battery.
Lenovo did an excellent job on this laptop. They took the y50 community feedback stuff that was broken and made the Y 700 if you're an avid hacker and you don't need like a super color-accurate display this is one of the best laptops for Pentesting right now at this price point. If you do need a super color-accurate display, this is not the one for you.
Lenovo IdeaPad Y700
Screen Size 15.6 inches

Processor 2.6 GHz Intel Core i7

RAM 16 GB

Graphics Coprocessor NVIDIA GeForce GTX 960M
Prices pulled from the Amazon Product Advertising API on:
Product prices and availability are accurate as of the date/time indicated and are subject to change. Any price and availability information displayed on [relevant Amazon Site(s), as applicable] at the time of purchase will apply to the purchase of this product.
The MSI GV62 is a mid-level gaming laptop. It's important to keep in mind that anyone with a tighter budget shouldn't just ignore this series as a whole. The real question is, of course, had this mainstream price does it have cutting edge performance?
The MSI GV62 8RD-034 model goes far beyond the requirements of the configurations required by most current PC game publishers. The laptop has a Core i7 processor running at 2.2 GHz with Cooler Boost 4 (2 fans, 6 heat pipes) and which also gives 9 MB of cache memory. It provides a sufficient RAM of 8 GB and also allows storage of 1 TB associated with 128 GB of available SSD. To ensure superior visual performance, this latest-generation PC gamer incorporates a 3GB Nvidia GeForce GTX 1050Ti 4G graphics card. Its 15.6-inch Full HD display also guarantees high-quality image resolution.
Design
Aesthetically, the MSI GV62 8RD-034 assumes its gamer vocation with a structured model that is both elegant and aggressive. MSI has however made an effort on the weight of the box by reaching a reasonable 2.2 kg, what to allow its transport during some displacements. Also, the entire frame is made of polycarbonate with no texture effect or unique finish, and the red details are limited to the cover logo, the keyboard and a red line running around the base. It's rather sober for MSI.
Note the presence of a red keyboard backlight called Steel series Red Backlit Customizable Keyboard that shows through the full height of the key (outlines). More present, it allows us to highlight the keys and ensure a good perception in a dark atmosphere.
The laptop MMSI GV62 8RD-034 boasts a full HD display monitor that has a sufficient size of 15.6 inches to optimize the display of your games. The computer also has an HD webcam that ensures good video quality and quality during running Kali Linux, or your live gaming sessions or video conferencing uses.
Performance
To establish its gamer destination, the PC puts on the dedicated graphics card Nvidia GeForce GTX 1050Ti 4G Pascal in its version with 4G dedicated GDDR5, able to compete with intensive players and ensure high frequencies in Full HD on all titles in the market with excellent details. It can also deal with 4K, provided to be content with titles undemanding. It is the same for virtual reality.
Overall the Nvidia GeForce GTX 1050Ti 4G is an excellent fit for Kali Linux, and of course, it's VR ready, so if that's your jam, you're good to go. The display is a 15.6 inch IPS panel there is a 4k option if you're a content creator the 1080p panel is reasonably bright.
The panel overall is excellent matte finish good color accuracy great viewing angles. Msi has changed a couple of things and now has two extra heat pipes it makes a huge difference this updated model has lower temperatures. It's a bit more comfortable to use on a table, and your lap fan noise is not bad it's pretty quiet on idle and under load, it's pretty average for a 15-inch gaming laptop.
It's audible, but it's not super loud or anything the speakers are unchanged from the previous generation. It's got a pair of speakers on each side and a small subwoofer the audio stays clean when it's loud the bass still isn't great I mean it's a tiny sub, but the overall sound is pretty good.
While the graphics are necessary for the gaming experience, the heart of this PC is also attracting attention as it based on the latest-generation Core i7-8750H Intel, which is gaining power over its predecessor. In a nutshell, this characterized by perfect support for the versatile use of video editing, 3D rendering, programming, and lastly best laptop for Pentesting. What's more, you get comfortable multitasking thanks to 8 GB of RAM.
For use in desktop PC mode, we can say that this laptop MSI GV62 8RE-012FR is sufficiently powerful as an HP OMEN 15-DC0001NF. For gaming, it also meets most of the requirements of current game publishers: 8 GB RAM, Core i7 processor 2.2 GHz; Turbo 4.1 GHz with 9 MB of cache, graphics Nvidia GeForce GTX1060 3 GB, storage of 1 TB for its hard drive and 128 GB for its SSD, etc.
Connectivity
To finish on the connectivity, its diversity will have something to delight the players. There is a card reader, two video outputs (HDMI 1.4, mini-DisplayPort) and four USB ports including three USB 3.1 ports and a USB 3.1 Type-C Gen2. You also benefit from the latest generation of WiFi 802.11 AC and Bluetooth 5.0 chips and Gigabit Ethernet.
It's made with a mix of aluminum and plastics good build quality. The 1080p screen is pretty bright and has a good image. The keyboard is nice with customizable RGB lighting zones. The trackpad is not as beautiful on the inside The Nvidia GeForce GTX 1050Ti 4G delivers excellent performance, and with the addition of the 2 extra heat pipes, they adequately cooled. There's a 51 watt-hour battery that'll get you around 3 hours of battery life.
If you're looking for a Pascal-based laptop the MMSI GV62 8RD-034 will give you great value the GTX 1050Ti has great performance and the components all around are pretty good. The build quality is average but if you're looking for the best performance for your dollar this laptop should be on your shortlist.
MSI GV62
Screen Size 15.6 inches

Max Screen Resolution 1920x1080 pixels

Processor 2.2 GHz Intel Core i7

RAM 8 GB DDR4
Prices pulled from the Amazon Product Advertising API on:
Product prices and availability are accurate as of the date/time indicated and are subject to change. Any price and availability information displayed on [relevant Amazon Site(s), as applicable] at the time of purchase will apply to the purchase of this product.
The best budget laptop in the list of best laptop for Pentesting is HP 17.3.  Customize your own yes you can upgrade this laptop upgrade hard drive from 1TB to 2TB and Ram from 8GB to 32GB along with 8GB RAM and 1TB Hard Drive which is a significant advantage.
This laptop comes with a reasonable price tag so I would say you must buy this if you are on a budget or just looking for the best affordable laptop for Pentesting check out the price and you will be amazed at what HP has done for you.
The HP 17 is a newcomer in the large format multimedia sector, characterized by its refined and rather excellent design. Its base is at least vivacious and makes many uses accessible with its 8th Gen Intel Core i7-8550U Processor, (Quad-Core, 8MB Cache, 1.8 GHz Up To 4.0GHz).
Design
The thing I noticed was the brightness and clarity of the huge 17.3-inch screen. Again, my expectations had been a little low given the screen's maximum 1600 x 900 resolution, but I was pleasantly surprised once I saw it in action.
It is 17.3 inches diagonal HD SVA BrightView WLED-Backlit display with Maximum screen resolution of  (1600×900) Display and Intel HD Graphics 620 for more colorful and fast performance.
Overall, I was quite impressed with this laptop, but I did find it a bit on the heavy side. However, I suppose a little over 5 pounds isn't all that bad for a 17.3-inch laptop that includes everything that's packed into this one.
The manufacturer remains true to its foundations a sober and chic, comfortable without being too bulky. Thus, the PC takes place in a fully metallic case all angles and polished accents.
They are praising this HP laptop because of its sleek silver aluminum chassis as well as their 360-degree hinges that can transform the system gracefully. It is available in three colors graphite silver, silver grey and in the light navy shade.
If the base of the screen gives up its chrome effect for more sobriety, it preserves its "return" which characterizes an intelligent hinge system: the screen at the opening will slightly tilt the keyboard to optimize the circulation of the screen. Air under the base and brings typing comfort.
Performance
Over the last few years, HP has been working hard to rebuild its reputation, and it's done so mostly through the best HP laptops. These mobile beauties, thought to be dead just a few years ago, have been reborn through the magic of the best Ultrabooks running on Windows 10. HP's best laptops, then, have transformed into devices that focus on design flair rather than cheapness. As you can see, this laptop has most everything you'll need for general-purpose computing at speeds that won't slow you down.
It is accompanied by the fastest 8th Gen Intel Core i7-8550U (Quad-Core, 8MB Cache, with 1.8 GHz Up To 4.0GHz), Processor. Moreover, it has a frequency rate of 4.0 GHz base frequency, up to 3.7 GHz burst frequency because higher frequency boosts up the computer processing rate.
When talking about its RAM, it supports different RAM specs, For instance, a). 4GB to32GB DDR4 RAM 1st HDD (Boot), b).128GB to 2TB SSD for better performance; and c) optional 2nd Optical Drive according to requirements. Moreover 1TB/2TB Hard Drive for extra storage space is also available.
How much RAM do I need on my laptop?
A Solid State Drive (SSD) present in this system will boost the overall performance of the computer. Windows 10 is the inbuilt windows that bring back the Start Menu from Windows 7 and introduces new features, like the Edge Web browser that lets you markup Web pages on your screen.
Connectivity Ports
It supports 2 ports of USB 3.1 Gen 1 for data Transfer Only and 1 port for USB 2.0 with a further 1  more HDMI connection. It has also Bluetooth connectivity for Multi-format digital card reader.
HP 17.3″
Screen Size 17.3 inches

Processor 4 GHz Intel Core i7

RAM 32 GB DDR4

Graphics Coprocessor NVIDIA GeForce MX150
Prices pulled from the Amazon Product Advertising API on:
Product prices and availability are accurate as of the date/time indicated and are subject to change. Any price and availability information displayed on [relevant Amazon Site(s), as applicable] at the time of purchase will apply to the purchase of this product.
Conclusion
Much as there are dozens of other laptops out there that seem like they could fit well in this category, bear in mind that the ones we mentioned have the proven ability to do this kind of work perfectly. So whichever model you decide to have from this list, you are guaranteed a satisfactory performance.
FURTHER READ: Best laptop for bloggers
Each of these laptops is engineered in slightly different ways, but all of them have the right combination of graphics quality, operating speed, and modern features to compliment a full-size, 17-inch screen. Whether you need a large screen laptop for Kali Linux, you'll find anyone of these more than up to the task.
Do you have experience using any of these laptops? Have any suggestions of your own that we left off this list? Be sure to tell us in the comments below!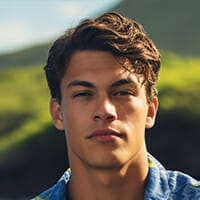 Mark Chard, holding a Bachelor of Science in Computer Engineering from the University of Florida, is the go-to expert at LaptopsGeek for all things tech. With a robust history of reviewing laptops, tablets, smartphones, and more, Mark has developed an astute sense for identifying the essential ingredients that define the perfect laptop. He brings a personal touch to his work, having personally reviewed and extensively used the laptops featured on LaptopsGeek.com.