There was a time when gaming was a leisure activity for some people. People used to play games when they want to become relaxed. However, as the world progressed, gaming became more than just a hobby. People started playing games religiously. These days, the story is entirely different. The gaming industry is worth billions, with several competitions being held each year, and players are winning millions of dollars for game competitions.
Amongst the gaming platforms, laptops have slowly gained popularity. Though people didn't use to consider them as gaming platforms at first, manufacturers are making sure that laptops aren't left behind when it comes to offering exceptional gaming capabilities. If you are also one of those people who enjoy gaming on laptops but are not aware of which direction to move forward to, then you would be glad to have read this article.
Here, we are going to discuss the best gaming laptops with good battery life.
Best Gaming Laptops With Good Battery Life
Eluktronics N857EK1 Pro-X Premium Gaming Laptop
GIGABYTE Aero 15X v8-BK4 15″ Ultra Slim Gaming Laptop
Acer Predator Helios 300 Gaming Laptop
ASUS TUF Gaming Laptop
Sager NP7856 15.6 Inches Thin Bezel FHD IPS 144Hz Gaming laptop
MSI GL63 8SC-059 15.6″ Gaming Laptop
Razer Blade Stealth 13 Ultrabook Laptop
Alienware M15 15.6″ Gaming Notebook
8 Best Gaming Laptops With Good Battery Life
1. Eluktronics N857EK1 Pro-X Premium Gaming Laptop
Specifications:
Screen size: 15.6 inches
Chipset brand: Nvidia
Brand name: Eluktronics
Usually, we start our list by mentioning products from well-known brands. However, we decided to change things up a little this time. Instead, we are going to discuss this laptop by the brand Eluktronics first. Elukrtonics might not be a household name when it comes to gaming laptops, but after seeing the features of this laptop, we are pretty much sure it is going to make a name for itself very soon.
This laptop has a lot of exciting features, including an Intel Core i7-8750H Hexa core processor, GDDR5 RAM ranging from 4 to 16 GB, and, most importantly, a graphics card of Nvidia GeForce GTX 1050Ti. Often people complain about their laptops not having a big screen to enjoy their gaming session properly. Well, this laptop would give gamers no reason to complain in the screen department. With a full high definition IPS 15.6-inch screen, you can enjoy an immersive gaming experience.
Additionally, you don't need to worry about the laptop heating up either. It comes with two fans that control the overheating problem and are responsible for cooling the components of the laptop as well. The result is that you get a smooth and interruption-free gaming experience. The processor is powerful enough to run even the heaviest games effectively. Finally, the laptop has an excellent battery life with running almost 5 to 6 hours.
2. GIGABYTE Aero 15X v8-BK4 15″ Ultra Slim Gaming Laptop
Specifications:
Screen size: 15.6 inches
Chipset brand: Nvidia
Average battery life: 10 hours
A lot of people prefer to have a laptop that doesn't only function well, but it looks stylish as well. While some laptops in the market have a rather odd-looking shape, others have been given a stylish and sleek appearance. The next laptop on our list falls in the latter category. While it has a lot of excellent features, but perhaps the best thing you are going to find about the laptop is its slim and attractive design.
Other than the design, the laptop has an Intel Core i7-8750H 8th Generation processor. This processor, as compared to the older version, enhances the performance of the laptop by fifty percent. If you don't have a capable graphics card in your laptop, then it doesn't matter how excellent other features are. You will not be able to play games smoothly. With this laptop, you can check that box as it comes with a GTX1070 GDDR5 8GB NVIDIA GeForce graphics card, which, if you are unaware, would produce the best gaming results.
Finally, another reason why this laptop is on this list is its battery life. As it has a battery of 94 watt-hours, it can run between 8 to 10 hours before you need to put in on charging again. This means that you can easily play games without having to worry about finding an electrical socket to plug the charger in. Moreover, you can select from the different modes like Express Mode, Customized Mode, and Quality mode to make the laptop run for even more hours.
3. Acer Predator Helios 300 Gaming Laptop
Sale
Specifications:
Screen size: 15.6 inches
Chipset brand: Nvidia
RAM: 16 GB DDR4
We cannot keep talking about excellent gaming laptops with good battery life without mentioning Acer's Predator series. There is a reason why everyone keeps talking about these laptops, and it is that these laptops have everything you need in a gaming laptop and more. At first look, you might feel like the design of this laptop is similar to that of older models, but a thorough look will reveal that this laptop has some stylish curves associated with it too.
If you intend to run heavy games on a laptop, then you must be aware of the consequences that come with it, such as the laptop getting heated. However, with Helios 300, you will not have to worry about that as the laptop features a new 4th Gen Aeroblade 3D fan that keeps the performance up while keeps the heat down. Additionally, to make the online gaming experience even better for you, the laptop features Killer Wi-Fi 6 AX1650.
Overall, the laptop is excellent for people whose top priority in a laptop is its speed. Once you start using it, you will find that everything loads fast, and you will not notice any texture gaps in the laptop. The gaming experience with this laptop is truly amazing and impressive. Even when we played intense games on the laptop like Call of Duty and WWII, we found it running smoothly. The laptop can run up to 7 hours before you need to recharge it.
4. ASUS TUF Gaming Laptop
Specifications:
Screen size: 15.6 inches
RAM: 16 GB DDR4
Graphics Card Ram Size: 6 GB
The next gaming laptop on our laptop is by a famous brand ASUS. This laptop has all the capabilities you look for in a gaming laptop, including AMD Ryzen processors, GeForce GTX 16-Series graphics, and a MIL-STD-810G chassis. All of these features combine to give you a laptop that can handle modern gaming titles without giving you any sort of trouble.
You can get to experience gaming in its ultimate form as this laptop comes with a NanoEdge display which has a thin bezel. Even when you are looking at the laptop from odd angles, you will set get the vivid colors. Additionally, the laptop comes with several ports that will help you eliminate connectivity issues.
5. Sager NP7856 15.6 Inches Thin Bezel FHD IPS 144Hz Gaming Laptop
Specifications:
Screen size: 15.6 inches
Memory speed: 2666 MHz
Chipset brand: Nvidia
Sager notebooks might not be widespread in the US, but over the globe, the brand has managed to get a good reputation. This laptop by Sager also has enough features that would be ideal not just for gamers, but for graphic designers as well. The laptop comes with an advanced processor of the Core i7-9750 9th Generation. It uses Nvidia GeForce RTX 2060 6GB GDDR6 graphics card to make the gameplay even more immersive.
The laptop can provide up to 4 or 5 hours of gaming before asking you to put it on recharge. As it has six cells, it provides 4 or 5 hours of gaming. If it had more than six cells, then it would have provided an even better battery life. The laptop also comes equipped with sound blaster cinema 5 with prominent speakers, so it is easier for you to tell when the enemy is near in a game.
6. MSI GL63 8SC-059 15.6″ Gaming Laptop
Specifications:
Screen size: 15.6 inches
Chipset brand: Nvidia
Different laptops have that one quality, which makes them stand out among the competition. When it comes to the feature of this laptop, it has to be the 5x giant speaker. With the speakers on this laptop, it would be hard for you to miss the steps of your enemy before you shoot them down. Other than that, the laptop has seven total heat pipes, which help the laptop remain cool during intense gaming.
With the MSI App Player, you can easily play mobile games on your laptop as you can connect your phone with the laptop and enjoy a seamless gaming experience. The 8th Gen Intel Core i7 processor delivers 20% more performance as compared to its predecessors. On some of the models, you get an anti-glare display. This allows you to play games while keeping your eyes utterly safe from the glare coming from the laptop.  As the laptop is specifically built to meet your gaming needs, you would find it more than satisfying.
7. Razer Blade Stealth 13 Ultrabook Laptop
Specifications:
Screen size: 13.3 inches
Chipset brand: Intel
Card description: Dedicated
A 13-inch laptop might not be ideal for some people, but after having a look at the features of this laptop, you are going to understand why it is on this list. The screen might be small, but it offers a stunning display. It has multiple features that contribute towards a smooth gameplay experience. Some of these features include NVIDIA GeForce MX150 graphics card, quad-core Intel Core i7 processor, and a 16 GB RAM.
If you are tired of batteries running out in the middle of your gameplay, then you would be glad to know that it has a long-lasting battery that can run up to 11 hours. This laptop is suitable for those who often need to travel a lot. Finally, the Razer Chroma allows you to customize the style of the keyboard according to your preference. Not a lot of laptops offer this customization option to users.
8. Alienware M15 15.6″ Gaming Notebook
Specifications:
Screen size: 15.6 inches
Chipset brand: Allwinner
Max screen resolution: 1920×1080
While a lot of brands on this list manufacture laptops other than gaming, Alienware doesn't. It manufacturers laptops specifically for gaming, which is exactly why each of the brand's laptop has excellent qualities. The first thing we like about this laptop was its build quality. The manufacturers have used different materials for different parts of the laptop's body: metal for the lid, glossy plastic around the display, and a soft plastic coating around the keyboard.
The laptop comes with a lot of fan profiles, including Balanced, which is the default option set on the laptop. Then there are Cool, Performance, and Quiet modes. When in Balanced and Performance modes, the performance of the laptop is going to be pretty much similar, with the fans running at the same speed. That being said, in Balance mode, the fans would not be making a lot of noise when you are not gaming intensely.
How to choose the best gaming laptops with good battery life:
Why should I buy a gaming laptop?
If you are a gamer, then you can't enjoy proper gaming without a good gaming laptop. Standard laptops are good for some tasks such as making presentations or doing other office work, but a gaming laptop is specifically built to suit your gaming needs. While some games might work on a regular laptop, but to play the latest gaming titles, you would need a gaming laptop.
Why is battery essential?
Gaming is a heavy task for a laptop to handle. Even for a gaming laptop, the battery of your laptop is going to drain faster if you are playing a game on it. That is precisely why the battery is one of the most important aspects of a laptop. A laptop may run 10-12 hours if you intend to watch movies on it or perform light tasks. However, if you want to play a game on it, it will not run for more than 6-7 hours.
The only buying guide you need to buy the best gaming laptops with good battery life:
With so many options out there, it can be overwhelming to choose just one. That is why you need to consider some factors before buying a gaming laptop. Once you narrow it down from those factors, it would be easier for you to make a decision. Following is the list of those factors:
Graphics card is one the most important, if not the most, aspects of a gaming laptop. Without it, you are pretty much handed with an ordinary laptop that you cannot use to play games on. Often, the graphics card is responsible for determining how fast the frames per second in your gameplay are going to be. If you want to enjoy the ultimate gaming experience, then it is recommended that you don't compromise on the graphics card. And to ensure that, you need to buy a laptop that offers the highest frames per second so you can play your games smoothly. Different games have different requirements, but most of the modern games require a high number of frames per second to run efficiently.
The display is another critical factor to consider before buying a gaming laptop. Unlike other gaming platforms, you will not be connecting your laptop with a TV to play a game. Though it is an option, not a lot of people do this. They play games on the laptop without attaching another screen to it. If you also intend to do the same, then it is of utmost importance that you buy a laptop with an excellent display. It will make your gameplay more immersive with vivid colors and other enhanced features.  While you don't need to look for any particular aspect when it comes to the display of the laptop, you would need a laptop with high resolution, including full HD and 1920×1890 pixels.
You are bound to deal with the heating problem, regardless of the laptop you go for. While that is something you cannot control, what you can do is look for a laptop that comes with a cooling system. Given the rise of heating problems in laptops, manufacturers have invented new ways to keep the issue in check. And one of those ways is by introducing cooling fans in the interior of the laptop. As soon as the laptops start heating during intense gaming sessions, the fans automatically turn on and provide cooling to the laptop. Some laptops have fans that turn off automatically when the temperature of the laptop is low. While having cooling fans on your laptop is a beneficial thing, it has a downside. Some fans make a lot of noise, which can be annoying.
A lot of people will use high-quality headphones to play games. However, that does not mean you should brush off the audio quality of your laptop. It should at least have good built-in stereo speakers for when you don't want to use headphones. Excellent sound matters a lot when you are playing games on a laptop. To be aware of each step your enemy takes, you need to have an audio sound system on your laptop. If it weren't necessary, some of the most prominent names in audio would not have included their audio systems in gaming laptops.
If you have a budget of$1000 and you are looking at the features of a laptop that costs 1500$, then you are wasting your time. To save yourself from that, make sure to set out a budget before you look for a gaming laptop. When you start looking for a laptop, you will be surprised to know that laptops can range from under $1000 to more than $3000. Of course, the higher you go, the more features you will get and you will be able to play games on laptops they were meant to be played in. With that being said, if you don't want to play high-resolution games, then you don't need to spend extra money on an expensive laptop. As long as a laptop satisfies the basic needs of your games, it should be good to go.
The final important factor for you to consider is the design of the laptop. Some laptops have somewhat awkward designs, while other laptops can be really slim. These days, the manufacturers are working on reducing the bezels on screens to make laptops even slimmer. So, if you want a laptop that not only functions exceptionally but also looks great while doing so, look for stylish laptops.
Conclusion
Before we part ways, we would like to say one thing. It is likely that you don't want to spend money on a gaming laptop again and again. And for that, you need to make an informed purchase. Our buying guide is going to help you in making a wise decision. Once you consider the critical factors you want, you can easily choose a gaming laptop for yourself. So, what are you waiting for? The best gaming laptop with good battery life is waiting for you!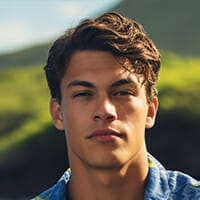 Mark Chard, holding a Bachelor of Science in Computer Engineering from the University of Florida, is the go-to expert at LaptopsGeek for all things tech. With a robust history of reviewing laptops, tablets, smartphones, and more, Mark has developed an astute sense for identifying the essential ingredients that define the perfect laptop. He brings a personal touch to his work, having personally reviewed and extensively used the laptops featured on LaptopsGeek.com.