Last time, I had reviewed the best hybrid laptops under $1000 for you. Again, I am here with another list of the best 2 in 1 laptops under 300. But this time, I have crafted a list of laptops that are easy on your pocket. So I am going to review laptops which will cost you less than $300.
Yes, you have got it right, I have written: "Under $300". But before jumping to the list, I want to clear a popular misconception that low-cost laptops don't perform well enough. Well, the thing is you need extra care to get the maximum out of a low-cost laptop.
7 BEST 2 IN 1 LAPTOPS UNDER 300 IN 2022
If you are looking for a decent hybrid laptop but you have not got thousands of dollars in your pocket, then check out our following list of best 2 in 1 laptops under $300.
1: Lenovo N23 2 in 1 Chromebook
If you are looking for the best Lenovo N-series Chromebook, the N23 2- in-1 Chromebook is the way to go. It is the improved and perfect version of the N-series. You can take an idea from the fact that how powerful this notebook is that more than 20 million students are relying on this Chromebook across the globe.
When talking about the design of the laptop, the N23 laptop is specially designed for school use keeping the grinds and bumps in the mind. Its exterior is ruggedized and it comes with a water-proof keyboard and sealed touchpad. The Lenovo N23 comes with 360-degree hinges and you can bend it or adjust it at an angle that suits you.
According to experts, it is a plus point of this cheap 2- in-1 laptop. You can use the laptop as a tablet, tent or stand whatever you like. For flexibility, I will give 100 marks to this Chromebook.
The laptop weighs about 2.9 pounds and you can easily carry it. Students love to carry lightweight laptops. Keeping this aspect in mind, Lenovo has added a built-in handle to carry it easily and without any hassle. You don't need a laptop bag to take your Chromebook in school. With its impressive design, it is a good choice for students when they are on a budget.
The 2-in-1 laptop has a chrome operating system and is a good choice for people who mostly use the internet for a day. As the Chrome Operating System depends heavily on the Web applications and services of Google.
The special feature of the Chromebook is the access to the play store. You can easily download your favorite applications. The webcam has a 180-degree rotation, so you can capture your favorite moments at different angles.
The battery of the laptop lasts for 10 hours that is fair enough. But there are Chromebooks out there that have longer battery life.
The laptop has a built-in storage of 16 GB and 11.6-inches with an HD graphics display.
Sale
2. Acer Premium R11
Looking for a perfect convertible Chromebook within your limited budget? The Acer Premium R11 is the answer. The Acer Premium R11 had hit the market many years ago and to date, it manages to have a good reputation. In my opinion, it is one of the best cheap 2-in-1 laptops out there.
The design of the laptop is inspired by the MacBook Air and it's a stylish laptop to buy. But it is an affordable choice, unlike its design inspiration MacBook Air. The most prominent feature of the laptop is its minimalist design.
If we compare the Chromebook with its competitors, the Acer Chromebook R11 stands as a better choice because of its 360-degree hinge. It is not the fastest Chromebook out there, because Chromebooks cannot beat the Windows and Mac laptops in performance and speed. It is using Chrome OS so amazingly that it does not need to have the best specs to provide a smooth experience.
When it comes to design, the Acer Chromebook may have not a perfect design but still, it manages to impress many tech-geeks with its pretty decent look. What I loved most about the laptop are its size and weight.
The laptop's exterior is made using a thin plastic with a matte finish. Let's be realistic, we cannot say this laptop is a sexy choice but it's not a bad choice, either.
The laptop comes with an 11.6-inch display which is touch-enabled. At this low price, an IPS feature is no less than a deal. It supports ten-fingers multi-touch technology. It feels amazingly sturdy when you are carrying it. The negative aspect of the laptop is its white exterior which easily picks up various smudges randomly.
When it comes to specs, it provides all specs which its competitors are providing with Chromebooks. It uses a 1.6GHz quad-core Intel Celeron N3150 processor with 2 or 4 GB RAM and offers a fast processing speed.
The laptop has not as good as multi-tasking abilities like Toshiba Chromebook 2, but you can smoothly run multiple web applications and videos. It has a battery life of 10.5 Hours.
It comes with 32 GB internal storage, for some folks it may seem a small storage capacity. But keep in mind that you will not be storing files on the laptop, unlike many laptops. You will get 100 GB of free Google Drive storage for time being to store your files on the cloud.
3. Lenovo Yoga book
If you are a Windows fan and love to take notes, make sketches, or draw something on your computer frequently, the Lenovo Yoga Book is the best convertible laptop for you. Let's explore it further.
From the outlook, you may feel that it's a high-end device, but let me burst your bubble, it is not a high-end gadget. Because it does not come with a high-end processor and it is quite justified because of the price Lenovo is charging for it.
If you are going to buy this laptop, keep in mind that it has a quad-core Intel Atom X5-Z8550 processor with 1.44 GHz speed, 2.40 GHz burst, and 2M cache which works perfectly for personal use and office usage including note-taking.
It has a 4GB RAM LPDDR3 RAM which is helpful for handling a few running applications at a time, but if you will try to run heavy and multiple applications at once, the system will crash down. Its 10.1-inch display is not supportive enough to run more than two applications at once anyway.
The Lenovo Yoga book has 64 GB of internal storage which is not generous enough but still, it is adequate enough to store large files. You can easily expand it using a microSD card.
The laptop is one of the best and hybrid laptops as it comes with different modes for tablets and laptops. In laptop mode, you have to use the keyboard and trackpad while in tablet mode, you can easily control the entire computer using the touchscreen.
The Create Pad of the laptop works perfectly with the sticky notes, screen sketch, and sketch pad. It allows the users to draw sketches on a surface that is flat on a table and the display is tilted up to see it easily. It also gives an option to a user to draw directly on the screen. But the laptop's touchscreen is not pressure-sensitive, but its Create Pad is.
The 2-in-1 laptop comes with a micro-USB port to get its power, so you can charge it even with an average mobile phone charger.
The downside of the laptop is that you cannot use the Halo keyboard for touch typing. If you are planning to do a lot of typing and writing stuff, then buy an external keyboard, monitor, and mouse while using the laptop on the desk. But if you are not a fan of taking virtual notes on a daily basis, consider other laptops from our list.
This is the most innovative computer we have reviewed and it comes with a design that grabs the attention of tech and style enthusiasts.
It is a lightweight, durable and beautiful laptop perfectly designed for people who love to take notes and draw on their computers frequently.
It comes with a reasonable price tag and Windows 10 has made it powerful enough to be someone's perfect computer.
4. Asus Chromebook Flip C213SA (Best 2 in 1 laptops under 300)
If you are a student and looking for a reliable and affordable Chromebook, I suggest checking out Asus Chromebook Flip C213SA. The Asus Chromebook Flip is highly durable with a flexible design, decent battery life, and good sound which makes it the best choice for young students.
Above all the features, it is an economical choice for your pocket. In this price, Asus is offering an 11.6inch touch-enabled screen, a sturdy design, and multiple ports. It is using the latest and stable version of Chrome OS which allows you to install applications from the Google Play store directly.
The design of the laptop is rugged and it feels sturdy. Its sturdy chassis comes with rubber edges covering all the corners and an anti-scratch cover but still, it cannot resist fingerprints. The design is above average but still, I will not give 100 marks for it.
It has an 11.6inch touch screen with a coat of anti-glare and perfect viewing angles. The touch screen works well and you can scroll through multiple web pages and can use basic multi-touch gestures including zoom for games and applications from the Google Play store.
When it comes to the performance of the laptop, the C213SA has got a good combination of an Intel Celeron N3350 processor with 4GB RAM. It comes with integrated Intel HD 500 graphics which is not powerful enough though but still, it works for regular Chromebook tasks. It will work perfectly for web surfing, file creation, and basic photo editing. If you have got to work on multimedia projects, I would never recommend this Chromebook.
The laptop's dull aesthetics, poor web cameras, and average performance are some negative aspects, but still, with its durability and flexible design, it manages to be one of the best ASUS laptops for kids and students.
ASUS Chromebook Flip C213SA-YS02 11.6 inch Ruggedized &...
The rugged and flexible 360 degree high strength zinc alloy hinge and 11.6" HD+...
Rugged and lightweight Mil-STD-810G construction protects the C213 from drops...
Starts up in seconds and lasts all day, thanks to a long battery life rated up...
5. The XIDU PhilBook
The XIDU PhilBook known as one of the best 2-in-1 laptops is a rugged machine featuring impressive construction, decent battery life, and an amazing keyboard. It provides an awesome experience in both modes whether you are using it as a laptop or as a tablet. It comes with a touch screen display to easily convert it into tablet mode to scroll, swipe, and zoom to explore games and different applications.
The laptop excels in performance as it is powered with a strong combination of a Z8350 Intel Atom Quad-Core processor and 4GB DDR3 RAM. For storing files and data on the laptop, it has got a storage capacity of 64GB and you can expand it up to 128GB by using a TF card later.
For connectivity, the laptop has got a diverse range of ports and jacks. It has two USB 3.0 ports with one headphone jack and a single Micro HDMI port. With the help of these ports, you can easily transfer files without any issues.
The device has got decent stereo speakers which are good enough for producing an amazing sound experience to have a superb entertainment experience.
The most promising feature of the laptop is its display, the laptop comes with a dedicated Intel HD Graphics card and 1920×1080 resolution. You can enjoy real-life-like images and sharp text on your screen from almost every angle. Another feature that I love the most is its ultra-thin and slim design that helps you to take it anywhere easily.
6. ASUS Transformer Book
A laptop is a 2-in-1 machine perfectly designed for people who are looking for a low-cost hybrid laptop. It is a perfect choice for people who are looking for the basic features of a laptop and a tablet without sending a lot of bucks.
The laptop is available in different colors such as rouge pink and aqua color. The laptop is a good choice for young adults to show their individuality. It is very portable due to its lightweight and small screen features but if you are looking for a productive hybrid option, then consider other laptops on the list.
It comes with a 10.1inch touch-screen display and a resolution of 1280×800. The device does not offer any customization options other than by selecting a color. For the performance, you get an Intel Quad-Core processor.
ASUS has upgraded the RAM for this laptop from its predecessors and it features 4GB RAM instead of 2GB RAM. With this laptop, ASUS has upgraded hardware such as cameras, you are getting a 5-MP rear camera and 2-MP front camera. It comes with a 64GB eMMC storage drive and Integrated Intel HD Graphics.
So we are done with our list of 2 in 1 laptops under 300. We have included and reviewed the budget-friendly hybrid laptops. If you have a good budget or you are looking for a powerful machine with better specs, you can check out our list of best hybrid laptops under $1000.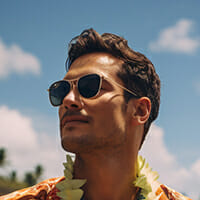 Daniel Levi is the Senior Editor at LaptopsGeek. He holds a Bachelor's degree in Computer Science from Arizona State University and boasts over 15 years of experience in laptop reviews. With his extensive knowledge and expertise, Daniel provides invaluable insights into the world of laptops, ensuring that LaptopsGeek readers stay informed about the latest advancements in technology.